I had a request to do a back to school nail art tutorial.
I didn't have anything planned, but I thought this design was really cute, AND it reminded me of loose leaf lined paper - just like the kind you buy for back to school.
There certainly have been lots of nail art designs that are a more literal interpretation of loose leaf paper.  But I like to think that I put a slight spin on this design.
Hope you enjoy!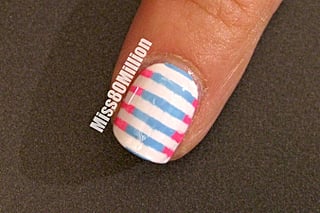 Hope you enjoy and give it a try! :)
Connect with me:
www.facebook.com/miss80million
www.twitter.com/miss80million
www.miss80million.blogspot.com
Materials Used:
OPI - Natural Nail Base Coat
Essie - Blanc
Painters tape - Scotch blue painters tape (can be purchased at your local hardware store) OR you can just use regular scotch tape.
China Glaze - Bahamian Escape
Color Club - Poptastic
OPI - Top Coat